AUDI - Sport Quattro S1 / S2 - Lexan Polycarbonate window kit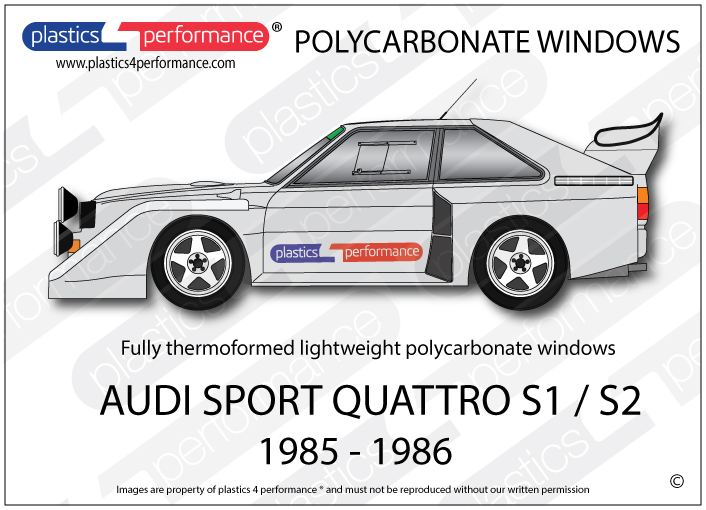 Thermoformed and CNC profile cut 5 piece Lightweight polycarbonate window kit
PRODUCT DESCRIPTION
- UV protected against sunlight discolouring
- Approximately 50% weight saving compared to glass of the same thickness
- Each window is marked to meet MSA, FIA & ABG regulations
- Accurately moulded* to the curvature of the OEM glass for a perfect fit
- Pre applied black border with high detailed DOT matrix serigraphy where applicable
- CNC profile cut and ready to fit
WORLDWIDE fully insured door to door shipping with DHL
AUDI Sport Quattro S1 / S2 - Lexan Polycarbonate window kit
Motorsport lightweight Lexan / Makrolon polycarbonate window kit
Manufactured from high quality Polycarbonate sheet
UV protected against sunlight discolouring
Approximately 50% weight saving compared to glass of the same thickness
Each window is marked to meet MSA, FIA & ABG regulations
Accurately moulded* to the curvature of the OEM glass for a perfect fit
Pre applied black border with high detailed DOT matrix serigraphy where applicable
CNC profile cut and ready to fit
Tinted Polycarbonates are self-coloured throughout the sheet  
Whats in the box?
Thermoformed front door windows with replica Audi slider kit
Thermoformed rear quarter windows with optional quick release mechanism
Thermoformed rear screen with embossed 'QUATTRO' logo
Pre applied black borders where applicable
Slider kits are factory fitted before shipping but removed & flat packed during transit to avoid damage
Custom made for you
All our products are manufactured in the UK by Plastics 4 Performance and are custom made to your requirements.
Worldwide Shipping
We ship our Lexan polycarbonate windows worldwide, fully insured, and direct to your door with DHL.
Why Buy from Plastics 4 Performance?
Feel safe knowing you are purchasing your Lexan Polycarbonate windows from a family-owned business with over 20 years continual history, we manufacture everything in house from the best materials by the best craftsmen and machinery. 
''You can tell a lot about a company by the people they supply to - and at Plastics 4 Performance we supply to the best''